Recycling electronic waste
We buy electronic scrap from companies, including electronics that contain personal and sensitive data. We can organise collection from your location or you can send your scrap to us by post (via Posti, Matkahuolto or DB Schenker). Read more in the section "Scrap can also be shipped".
We accept e.g. printed circuit boards, old mobile phones, telecommunications waste, hard drives, CD drives, and many other recyclable materials. Unfortunately, we do not accept individual items.
Pricing and the recycling process
Printed circuit boards and their components often contain gold, silver, palladium, copper, and other precious metals. The value of the material is determined based on the content of these metals.
When we receive the goods at our processing facility in Tervajoki, we sort, weigh and determine the price of the electronic scrap. We then pay the compensation to the customer.
We shred the printed circuit boards in our shredder and send the shredded circuit boards to a smelter. A high-efficiency cyclone separator collects the precious metal dust generated during the shredding process, which is also sent to a smelter for final processing.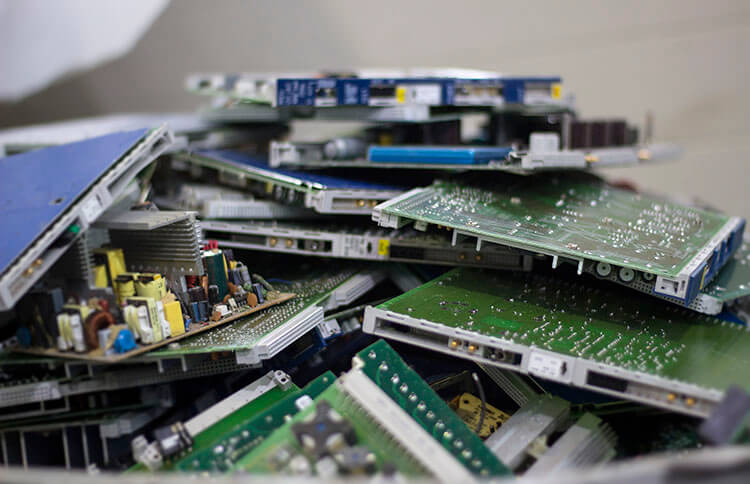 Kat-Metal also recycles electronic scrap that may contain personal and sensitive data. We can issue a certificate of destruction for all your confidential waste.
Scrap can also be shipped
We collaborate with Posti, Matkahuolto and DB Schenker. Any logistics costs are always agreed upon separately. We collect your scrap free of charge as we determine the most efficient routes and schedules to minimise trips and to ensure full loads. Logistical details are always considered on a case-by-case basis, and there are plenty of options to choose from. if you have any questions about shipping, please contact customer service.